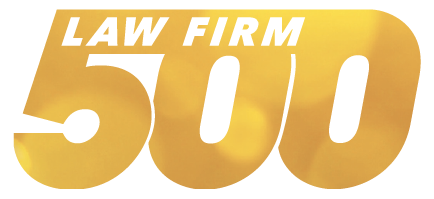 The S.E. Farris Law Firm Named Among Fastest Growing Firms in U.S.
LOUIS (Sept. 21, 2017) – On Sept. 19, the Law Firm 500 Award committee announced the list of 2017 Honorees. The S.E. Farris Law Firm, achieving 30.84% growth, ranked 188th on the 2nd Annual Law Firm 500 Honorees List. The published list recognizes law firms that have achieved significant growth in revenues.
Each nominee was verified by the outside accounting firm, Kahuna Accounting. The award honorees are a beacon of light for the legal industry demonstrating innovation, operational excellence, and a commitment to client service.
"We're honored to be recognized on a national level for our growth," said Spencer Farris, managing partner of The S.E. Farris Law Firm. "Our firm is small by design so that we can devote individual attention to each of our clients. We're proud to attribute our growth to the value of our services rather than the volume of our client list."
The 2017 Law Firm 500 Award Honorees list showcases the top 200 fastest growing law firms in the U.S. Each ranking also includes the percentage of growth ranging from 25% to a staggering 5400% over 3 years—no small feat for any business.
The Law Firm 500 Conference & Awards Gala will be held Oct. 19-21 at the Boca Raton Resort & Club in Florida. The Award Ceremony will begin with a powerful keynote presentation by pioneer entrepreneur, New York Times Best-Selling Author and investor on ABC's Shark Tank, Daymond John. Mr. John will be translating his $6 billion business success into success for law firms. Tickets to attend the conference and Gala are available at www.lawfirm500.com.
We invite you to congratulate and follow the progress of our law firm, and industry peers for their dedication to success and innovation. Please visit https://lawfirm500.com/2017-award-honorees/ to learn more.
###
About The S.E. Farris Law Firm:
Located in St. Louis, The S.E. Farris Law Firm focuses on the needs of injury victims, and our clients benefit from decades of experience with the complexities of personal injury law, expertise and solid record in trial of civil lawsuits, and established procedures and practices designed to win for our clients. For more information, visit www.farrislaw.net or call 314.252.9937.